Subjects with colour vision deficiency in the community: what do primary care physicians need to know?
Asia Pacific Family Medicine
2014
13:10
Received: 15 August 2013
Accepted: 19 September 2014
Published: 9 October 2014
Abstract
Background
Congenital colour vision deficiency (CVD) has a prevalence of 8% for men and 0.4% for women. Amongst people born with normal colour vision, the acquired form of CVD can also affect them at later stages of their lives due to disease or exposure to toxin. Most CVD persons have difficulties dealing with colours in everyday life and at work, but these problems are under-reported due to a lack of its awareness in the general population. This literature review seeks to present findings of studies and reports on the impact of CVD on the affected persons chronologically through different stages of their lives and their coping measures.
Methods
Scientific publications and corresponding references relating to how CVD affects individuals were searched, identified and retrieved from PubMed, National University of Singapore and Cochrane electronic databases. Books that were not available electronically were manually searched. Paramedical literature was also included through online searches using Google and Google Scholar. Inclusion criteria were English-based studies pertaining to effects of CVD on everyday life and respective coping measures, including experimental, observational studies, symposium proceedings and systematic review. There was no timeframe restriction for these publications. Articles using anecdotal evidence were excluded with the exception of those used to describe the effects of CVD on play age and school age. Our literature search found 136 articles, 60 of which were used in this review based on the respective selection criteria.
Results
CVD affects many aspects of life from childhood to adulthood. The implications extend across play, sports, driving, education, occupation, discrimination, and health and safety issues. Awareness of CVD helps to identify and develop corresponding coping strategies.
Conclusions
More work needs to be done in raising awareness of CVD and its implications, as well as implementing measures to overcome these difficulties.
Keywords
Colour vision deficiencyActivities of daily livingCoping measures
Background
Individuals with normal colour vision (NCV) have three types of specialised cells, known as cones, in their retina to help them to perceive red, green and blue colours. People with abnormal cones will perceive colours differently. There are several types of such colour vision deficiency (CVD). Anomalous trichromacy occurs when one of the three cones is abnormal – protanomaly involves reduced sensitivity to red, deuteranomaly involves reduced sensitivity to green and tritanomaly involves reduced sensitivity to blue. Dichromacy occurs when a person only has two retinal cones that are able to perceive colour, resulting in the total absence of one colour. There are three types of dichromacy – protanopia, deuteranopia, and tritanopia.
Congenital CVD has a prevalence of 8% for men and 0.4% for women [1]. In Singapore, a study done on 1249 children aged 13–15 years using the Ishihara 24-plate edition book found 5.3% of boys and 0.2% of girls to be colour blind [2]. All people with CVD, except for a few mildly affected deuteranomals, report that they encounter problems with colour perception in everyday life and at work [3]. Yet, there have been few studies systematically documenting the personal difficulties that CVD persons experience in their daily lives [4]. There seems to be a lack of awareness for the implications of CVD in the general population [1],[5]. Furthermore, CVD can develop later in life due to development of disease or exposure to toxins such as chemicals or drugs which affect the retinal cellular structure and function [6]–[9]. Known as acquired colour vision impairment (ACVI), the prevalence of CVD, inclusive of both the congenital and acquired forms, is expected to increase globally with the increasing population. Therefore, this article presents a review of current literature, comprising scientific studies and paramedical reports of the effects of CVD on individuals through their different stages of life. This would better help those afflicted with CVD to identify the domains of difficulties in daily living and to determine possible strategies to cope with their predicaments.
Methods
Data sources
Studies on how CVD affects well-being were identified from multiple sources. The following electronic databases were searched: PubMed database, National University of Singapore (NUS) database and Cochrane database of systematic reviews. Search terms included `colour vision deficiency', `colour vision impairment', `colour blindness', `well-being', `quality of life', `everyday life', `everyday tasks', `discrimination', `handicap', `education', `driving', `accidents', `occupation', `aviation', `maps'. The last search was performed on 22 May 2013. The references within the retrieved articles found were also searched. Additionally, electronic journals in the field of CVD that were available online were searched. Books that were not available electronically were hand searched for relevant studies. We also used the proceedings of the eleventh and thirteenth Symposiums of the International Research Group on Colour Vision Deficiencies, held in Sydney (1991) and France (1995) respectively. Paramedical literature was included through online searches on the World Wide Web, using search engines such as Google and Google Scholar. All literature found was added to EndNote X6 digital library.
Study selection
Inclusion criteria were articles available in English language, studies pertaining to effects of CVD on everyday life and specific populations (for example, pilots). These publications consist of experimental, observational studies, symposium proceedings and systemic review. No restrictions on the years of study/follow-up, publication status or publication date were imposed. There was no timeframe indicated as some studies done on CVD decades ago have implications that remain pertinent today. The exclusion criteria used were non-English articles and non-human studies. Articles using anecdotal evidence were also excluded with the exception of those used to describe the effects of CVD on play age and school age due to the paucity of primary sources of evidence for these stages of life. Eligibility assessment was performed by two unblinded reviewers. Disagreements between reviewers were resolved by consensus.
The literature search on electronic databases provided a total of 118 citations. Additional 18 records were identified through hand searches, reference lists and search engines on the World Wide Web. After adjusting for duplicates, 124 remained. Of these, 52 were excluded as they were not within the scope of the review, their full text was not available or not translated into English. The full texts of the remaining 72 citations were examined in detail. It appeared that 12 did not meet the inclusion criteria as they were not relevant to the topics of discussion. Eventually, 60 records met the inclusion and exclusion criteria and were used in this review. Of these 60, 46 were identified via electronic databases while 14 were identified from alternative sources as mentioned earlier. The selection of studies is summarised in Figure
1
below.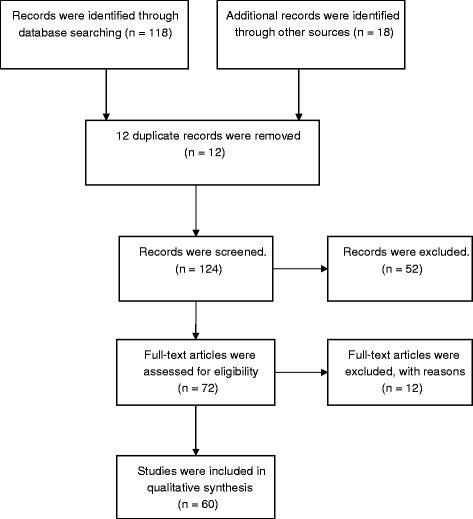 Each article was evaluated using the PICOS framework (population, interventions, comparator, outcome and study design).
Results
The impact of CVD on affected persons will be presented chronologically from childhood at play and in schools, young adulthood, working life to late adulthood. Figure
2
summarises the impact of CVD on affected individuals at different stages of their life.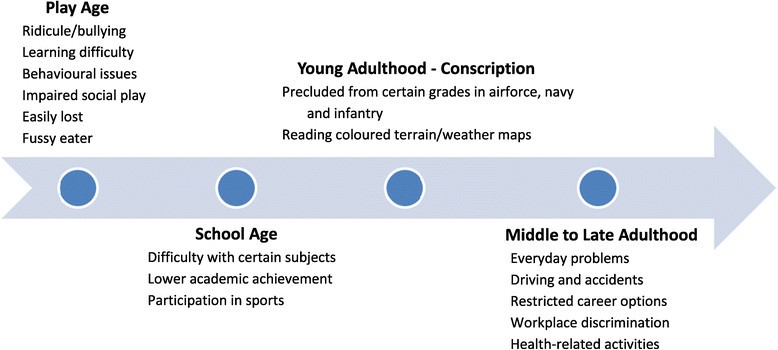 Discussion
CVD is currently under-diagnosed as there is no structured screening in various parts of the world. Screening for CVD is important so that appropriate career advice can be given to these individuals, especially during the period when they are receiving their education [43]. This would require detection of CVD through screening using pseudoisochromatic tests, and then determining the type and severity via spectral and hue discrimination tests respectively. The Ishihara chart would be ideal for screening for congenital red-green colour blindness in children and should be made routine in schools. Currently, vision screening in schools in Singapore only includes visual acuity and stereopsis [54]–[56].
Nevertheless, screening for acquired CVD (ACVI) is challenging as they do not follow the well-defined patterns of congenital CVD and may be difficult to classify [6],[57]. Currently, there is a paucity of primary studies to evaluate the costs and benefits of mass screening for acquired CVD, although some preliminary studies show that doing so may help detect diabetic retinopathy and primary open angle glaucoma earlier [8],[58],[59]–[62].
Once CVD has been detected via screening, measures must be taken to help the afflicted overcome their difficulties with colour discrimination. This is especially important as 46% of dichromats and 15% of anomalous trichomats reported colour difficulties with everyday work [
4
]. Means of overcoming occupational colour deficiencies used include asking others, using instruments, keeping objects of different colours in separate places and avoiding colour tasks [
4
]. A 2001 study showed that the use of tinted contact lenses in CVD subjects significantly reduced error rates on the Ishihara and Farnsworth Munsell D-15 test [
62
]. This may provide some assistance in colour-related tasks. Tables
6
and
7
show recommendations for colour-coded designs made by Birch and simple steps for improving the classroom made by Albany-Ward K, the founder of the Colour Blind Awareness organisation [
16
],[
23
].
Table 6
Recommendations for colour-coded designs
| No. | Recommendations for colour-coded designs |
| --- | --- |
| 1 | Avoid specific colours if no redundancy is possible |
| 2 | Include redundancy, especially lightness difference, whenever possible |
| 3 | Segment areas of colour which might otherwise be confused |
| 4 | Avoid dark red or green text on a black background |
| 5 | Enhance colour conspicuity such as using white or yellow for objects which have to be seen in poor illumination or at night |
| 6 | Avoid glare |
Table 7
Steps for improving the classroom for CVD children
| No. | Steps for improving the classroom for CVD children |
| --- | --- |
| 1 | Label felt tips, paints, pencils etc. |
| 2 | Colour-code boxes of toys, art materials and books |
| 3 | Check computer-based teaching aids, web pages, computer settings |
| 4 | Use strong contrast on white or chalkboards. |
| 5 | Use patterns and labels rather than colours for maps, pie charts, diagrams |
| 6 | In sports and games, ensure that children can see who is on his or her `team' |
| 7 | Group and label beads, bricks and colouring material according to colour |
| 8 | Organise `buddies' for science experiments, art projects etc. |
Conclusions
CVD people face a wide range of difficulties in everyday life, especially for the dichromats. Many people are not aware of their CVD until they face difficulties differentiating colours or after they have undertaken colour vision testing. Screening for CVD is one possible intervention and should be carried out early in life. Increasing the awareness of CVD and its impact at the various stages of life will prompt the affected individuals to take on appropriate measures to ensure that CVD does not become their handicap.
Abbreviations
NCV:

Normal colour vision
CVD:

Colour vision deficiency
ACVI:

Acquired colour vision impairment
Authors' Affiliations
(1)
Ministry of Health Holdings Pte Ltd, Singapore, Singapore
(2)
Research Department, SingHealth Polyclinics Head Office, Singapore, Singapore
(3)
DUKE-NUS Graduate Medical School, Singapore, Singapore
Copyright
© Chan et al. ; licensee BioMed Central Ltd. 2014
This article is published under license to BioMed Central Ltd. This is an Open Access article distributed under the terms of the Creative Commons Attribution License (http://creativecommons.org/licenses/by/2.0), which permits unrestricted use, distribution, and reproduction in any medium, provided the original work is properly credited. The Creative Commons Public Domain Dedication waiver (http://creativecommons.org/publicdomain/zero/1.0/) applies to the data made available in this article, unless otherwise stated.